On March 11, Hemp Grower magazine posted an article about the largest conducted CBD clinical trial. The data was impressive to say the least. Here are some of the details surrounding this groundbreaking study.
In December of 2021, Radicle ACES (Advanced CBD Education & Science released the findings from the largest clinical trial of CBD products ever conducted. The study measured five health outcomes of 3000 participants over four weeks. Each participant was assigned a botanical product provided by one of the 13 CBD companies that participated in the Institutional Review Board (IRB) approved Randomized Controlled Trial (RCT).
The measured areas of significant improvement were:
feelings of anxiety
well-being
quality of life
long term pain
quality of sleep
The key findings are as follows: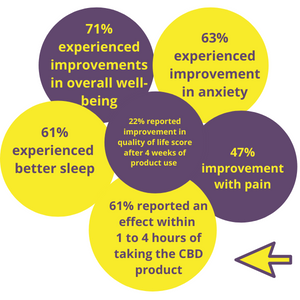 Further from the interview in Hemp Grower magazine;
"We looked at how this score changed throughout time and compared this change among those taking product to those who did not take product," Saleska said. "We also looked at the proportion of people taking product who experienced 'clinically meaningful improvement,' meaning that their score improved so much that if a clinician were to evaluate them as a patient, they would conclude that the participant experienced a distinct and palpable improvement in their quality of life."
Notably, Saleska said, the study did not find any significant differences in effects produced by CBD Products with various spectrums (e.g., full, broad or isolate). The lack of difference by spectrum was interesting. We had hypothesized that other Cannabis compounds would have some impact on the effect of CBD," Saleska said."
View the study here.
It was refreshing to see actual data backing the claims made by so many of us taking CBD products. With these findings, all of us should feel confident in the capabilities of CBD and it's effects on the body.